Branding is important for any and all business. Branding sets you apart from everyone else, and your brand is how people remember you. Visual branding can be time consuming so hiring a virtual assistant to do your graphic design can really free up precious time.
You may need to hire a virtual assistant to create your branding. Coming up with a logo, standard font, a tagline and company colors is always a fun job, and if you're lucky, you will hire someone who shares your vision. For me, no one shared my vision so I learned how to design and establish my own branding.
If you have an established business, chances are you already have your branding in place. Just make sure to provide your VA with your branding / style guide upon hire so they have everything they need to incorporate your branding everywhere.
Where is everywhere?
Your website
Not everyone has a website, but most businesses do. It is important for your website design to coordinate with your branding and to look modern.
In my experience, not everyone considers this. When I see a site where a company's logo is Blue and Gold then their website has brown buttons with white font, it looks unprofessional. Just a tiny little nuance like a mismatched button or a website that looks like it hasn't been updated in 15 years can turn someone off from your website.
Humans are visual creatures. When people are shopping around and don't have much to go on other than websites, they will usually go with a well designed, modern website.
Social Media
Creating unique graphics and content on social media is a must for business. Not only does it show your business personality, but it makes people feel they are bonding with you.
If you have virtual assistant creating your graphics to be shared on social media, you want a virtual assistant who is going to include your logo and company font / colors on all graphics. Side note: It's also important that the person working for you understands how to optimize graphics for viewing across different social media platforms.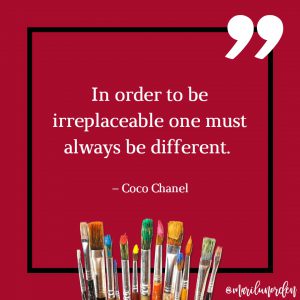 Personally, when I make graphics for clients, I create templates for each type of graphic. For example, I may have a template for #mondaymotivation and one for #tiptuesday. Those templates feature the same font, my client html colors, and the logo is always in the same location. Each week I'm able to go in and change content on the image and the photo but everything else stays the same.
Pictured above is a quote template I use for one of my client's Instagram account on Mondays. I recently evolved to this design. I have her handle in the lower right hand corner. She's an artist. Her work is just beautiful. She focuses on the southwest in her paintings. She's almost 95 years old and still paints daily. Feel free to follow her or check out her website. Sorry I drifted. I get so excited sharing her work. Each week, I update with a new creativity quote, and I post. Her followers know to expect a quote each week.
I want people to look forward to the content I post each day for my clients, and I want people to share it. Then everyone who views their shares will also learn my client's branding which will bring them even more followers. See the importance?
Email Marketing and Communications
Emails are NOT dead. I don't care what you've heard. Emails can be automated, they are personal, and emails integrate with other marketing channels (think Facebook Ads). If you send out any written communication to customers or clients, an experienced VA will know to incorporate your branding.
For my clients, I create email templates that match the company colors and incorporate their company logo. I also add other little personal touches to make people remember the company they're receiving the email from.
Print Materials
Offline materials should match your online branding. You may need business cards, brochures, posters, postcards, letterhead, banners and more. Anything that you will be giving to potential customers or clients or anything of yours that they can see needs to reflect your brand so you stand out, and they remember you.
While I haven't created printed materials or business cards for any clients, I have created them for myself. I make sure to use the same logo, font and colors across the board so if anyone sees any of my materials, they will recognize my business.
Does Do It All Virtual Assistant offer branding services?
Why yes, yes we do. Whether you are seeking to update your current brand or are starting from scratch, we can help.
Message me today for a FREE consultation by clicking "contact us" at the top of the page.