How to Be a More Efficient Virtual Assistant—Tips and Tricks
It's not always easy to figure out how to be a more organized virtual assistant, but having the right systems in place will help. Some people are super organized, and their entire life is run off of systems. That's not me. I'm trying to get better, but as my business grows and things change in my personal life, I'm having to implement systems to keep up. If you have your shit together already, hand claps for you! 👏 That is AWESOME! However, if you do not, let's talk systems.
What is a system?
To me, a "system" is a specific process to help one stay on track and achieve a specific result. Since I homeschool, work full-time for myself and manage a household, I have learned I need systems to function.
I never really knew what a system was until I started working as a virtual assistant, and I saw all of the systems businesses have in place to stay on track. Looking back, all of my jobs have had systems in place for employees, but I never really thought about them before.
When I worked outside the home, I felt like I was on auto pilot. I have worked for companies that already had their business systems in place. I knew what I was supposed to do each day, and I did it. I didn't have the same distractions that I have now working from home.
Why did I need to implement systems?
When I first started working as a virtual assistant, I wasn't very concerned with having specific systems in place to keep myself on track. After all, the two clients I had at the time used Basecamp and Teamwork, two very good project management platforms. That was all I needed to stay on track, right? Wrong.
I quickly brought on more clients, and I had more tasks to do than what was listed in any project management programs my clients were using. I'm getting older, and I don't remember things as well as I used to. I wish I had some special epiphany that led to my newfound desire to stay organized, but really, I was screwing up.
I found that if someone asked me to do something, and I didn't write it down, I forgot about it. Talk about awkward. "How's that task coming along I asked you to complete last week?" Thank God we are on Slack so my client wasn't faced with my blank stare. 😳
I THOUGHT I completed tasks that I didn't. One of my clients has me post to her Twitter account weekly, and I was going along with my week thinking the tweets were posting, as scheduled, just to find out…nothing was scheduled. 🤦
It was bad. And I think I was getting worse because business was picking up and so was my personal life. This isn't my homeschool blog so I wont go into too much detail, but I do have my days scheduled where I homeschool. Plus I have to remember certain errands and tasks that need to be done for my personal life like phone calls, pay bills, get oil changed, take kids to the doctor, etc.
As said in one of my favorite movies, "The shit hath hitteth the fan."
How I stay organized
Finally! The entire reason why you're still reading. I'm going to tell you how I stay organized. In no particular order, here are SEVEN systems I have implemented to keep myself on track.
1. Block Schedule – My days are scheduled, and while things change, I try to make sure I am able to make changes in advance. I'm not good with sudden changes to my schedule so if at all possible, I schedule everything.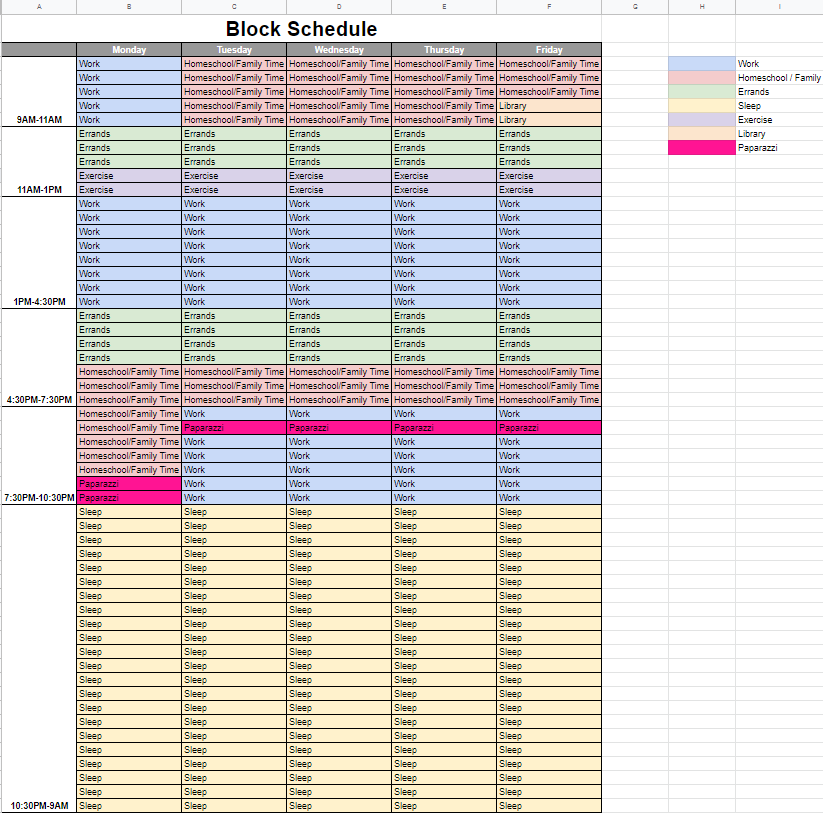 Block scheduling allows me the flexibility of getting done what I need to do each day but still having a little bit of wiggle room. While my block schedule is NOT set in stone, it helps me plan.
2. Google Calendar – My meetings (Zoom meetings) are scheduled out with clients through Google Calendar. I add my VA email address to all meetings so I can keep track of what meeting I have for which client.
When I have personal appointments, I will add them to my Google Calendar as well. That way I know at a glance if I'm free for a meeting. Some of our meetings are recurring and some are scheduled weeks out so I rely on my Google Calendar notifications to keep me on track.
If I have an assignment with a hard deadline, I will add that into Google Calendar so I get the phone reminder. Most of my assignments are due by certain days, but there are some that are time sensitive. While rare, I need to stay on top of it, and Google Calendar/notifications do the trick.
3. Old Fashioned "To Do" Lists – I keep a clipboard in front of me with my monthly, weekly and daily to-do lists. I know that sounds overwhelming, but let me explain. I couldn't find a daily to-do list that I like so I created my own.
My daily list birthed a weekly to-do list because I had some tasks that needed to be done that week but not necessarily on a specific day. Time passed, and then the monthly to-do list was born. I primarily track all of my business to-dos on these lists. Sometimes, personal tasks will make these lists. If I have to make phone calls or renew something, I'll add that on my daily "Do It All Day" list.
These keep me going. Especially for those ad hoc tasks that come up throughout the day. If it's not written, I'll forget about it.
My task lists are not anything you couldn't make yourself, but if you don't have time and like mine, they are available in my digital shop.
4. Trello – I'm sure you may be wondering why I need Trello when I have my printed to-do sheets? First, let me sart by telling you what Trello is just incase you don't already know. Trello provides digital organization that uses "boards" and cards on the boards. It's very visual. If you haven't checked it out, I recommend you do.
I have Trello boards for "My Life," my virtual assistant business, my blog (work in progress) and my jewelry. I keep my goals listed, both short term and long term. I brainstorm, and I list out blog post ideas. It's basically an organized brain dump.
I create Trello boards to organize assignments for clients with no project management system. It's super convenient because I can invite them to the board, and we can collaborate easily by making notes and keeping track of what needs to be done, brainstorm, etc.
5. LastPass – I use LastPass to keep up with my passwords. Google Chrome has had security breech issues in the past so I don't keep passwords stored on my browser. LastPass is super convenient as well because they have a free plan, and you can share your passwords with people without them every SEEING the password.
This comes in handy if you have someone working for you who needs a password, but you don't want them actually seeing what the password is. LastPass allows users to launch to a website directly from LastPass, and then LastPass generates the password into the password field. All the invited user will see is ******.
Did I make that complicated? It's really not. If you want a hard copy of your passwords because you don't totally, 100% trust electronic storage, I have a handy dandy password log available in my digital shop. IF you go this route, and I'm sure you know this, make sure to keep your passwords stored in a safe or somewhere out of reach so no one can find them.
I work from home so that's too risky for me. I don't need nosey kids finding them even though they wouldn't know what to do with them!
6. Budget Spreadsheet – I created the PERFECT budget spreadsheet for me. I'm tweaking as I move through January, and then I plan on offering the template in my digital shop as well.
I have one file that tracks business and personal expenses. I have budget goals lined out each month so I'm able to see how much over or under my goal I am. Then, there is a tab that totals up each month's total bring in, total spend and whether I'm in the green or in the red for that month. The sheet ends with my yearly totals.
I'm pretty excited about it, and it's taken me some time to get it set up with the right formulas and to make it as user friendly as possible.
7. Old School Day Planner – I needed a planner that I could look at, that fit in my purse yet was big enough so I could see it so I wanted something the size of a full sheet of paper.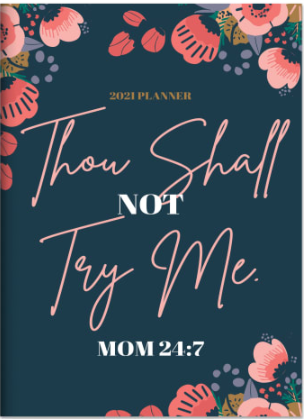 I settled on this planner from Office Depot. I like that I can write goals, see the entire month at a glance, and there's a space for me to add in important dates like birthdays.
I use this planner when I'm on the go so if I'm in the doctor's office needing to schedule a follow-up appointment, or I need to put in a reminder to get an oil change in three months, I'll write it in here.
I do write in work meetings just because it's easier to refer to this planner when I'm out and about rather than poking around my phone checking for scheduling conflict.
Do I still miss things sometimes?
Yes! Even with all of this in place, I'm still not perfect. Shocker. 🙂 BUT, with all of this in place, I'm less likely to miss assignments or forget what I'm doing. While it's a hard reality to face, I don't remember everything the way I used to. So, to keep up, I have to face my shortcomings and find solutions.
What are some of the systems you've implemented to stay on track?